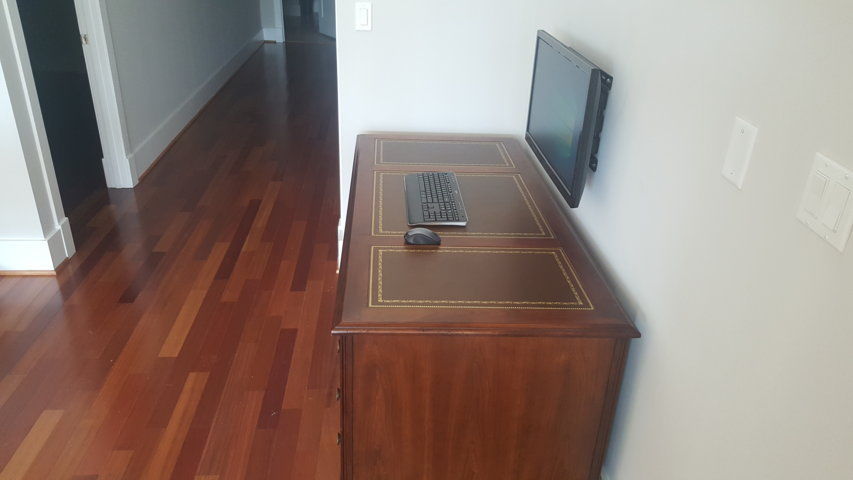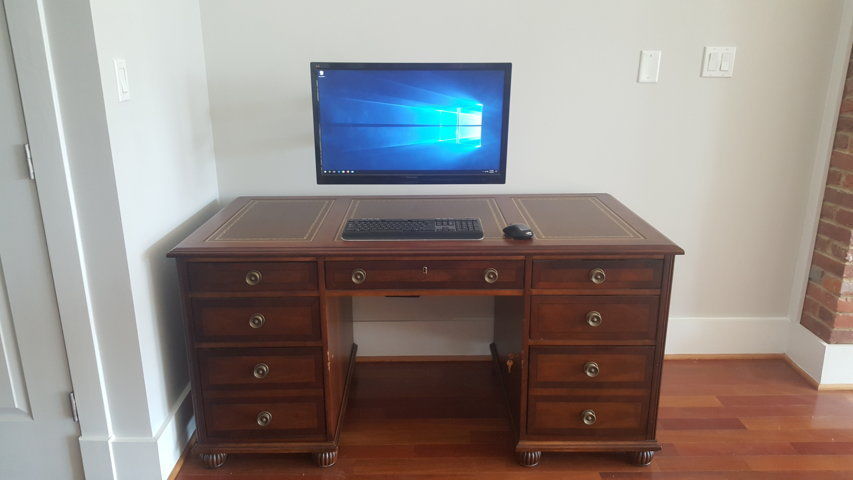 This NUC tiny computer was custom built for a client that most of all wanted a home office without the ugly wires, and bulk computer. TechMedX built this NUC with an i7 processor, 500GB SSD, 16GB RAM, and Windows 10. A mounted 27-inch monitor, wireless mouse, keyboard, and printer gave this happy client a blazing fast home office computer without any of the mess. This NUC mount is another great custom computer designed as a result of listen to our clients needs. In addition to a great computer the client also wanted a great looking work place.
TechMedX begins this NUC mount project with some simple steps. Unboxing the components, and installing the RAM and SSD into the NUC computer. The front of the NUC has the power button 2 USB ports, SD reader, and headphone jack. The rear of the unit has 2 additional USB ports an HDMI output, Ethernet connection, optical audio, display port, USB-C, and power connector.
Installing Windows takes less than 5 minutes with this NUC custom computer. SSD are much faster than HDD. While the setup might not look pretty it gets the job done. Furthermore it gets us back onto the mounting part of this NUC mount.
Turning this NUC custom computer build into a NUC mount begins most of all with the mounting plates. TechMedX used a peerless mount, and purchased an additional bracket for the NUC to attach it's default mount to the side.
Oops, the edge of the NUC mount sticks out beyond the edge of the monitor. No problem the plastic piece of the mount was blocking access to the front of the NUC anyway. The plastic is removed and the mount customized with a little grinding. Finally the mount is inside the frame and the NUC will be accessible when retracted against the wall.
Onsite work begins by attaching the mount to the wall, and then leveling the monitor on the mount arm. Almost completed the wires are pulled through the wall and the surge protector mounted where it will later be accessible under the desk.
Finally the NUC Mount is completed! This was another fun custom computer build for TechMedX and most of all the client was extremely happy with both the installation and the performance of the NUC custom computer.